Students receive financial support from BOP Education Trust
Eighteen young Bay of Plenty students have just received $108,000 worth of scholarship money to share as they head off on their tertiary education journeys.
Thirteen students from the Western Bay of Plenty, and five from the Eastern Bay of Plenty, have just benefitted from the latest Bay of Plenty Education Trust funding round. Each will receive $6,000, paid in instalments during their studies, thanks to the Trust's Science, Technology and Emerging Industries Scholarship.
BOP Education Trust chairman Nick Earl says 345 students have received the financial support since the scholarship was introduced at the start of the new millennium. That equates to more than $1.7 million in scholarship money invested in the education of local young people, he says.
The 13 most recent Western Bay of Plenty recipients are as follows: Emma Wilson, Aquinas College; Finn Cleaver-Brown, Bethlehem College; Jack Towers and Makaia Ormsby, Tauranga Boys' College; Jacob Earles and Kobe Jervis, Mount Maunganui College; Levi Nicholson, TePuke High School; Paige Bowles and Rawina (Shayla) Kiwi, Tauranga Girls' College; Rivah Somerville, Katikati College; Sorraya Dodunski, Papamoa College; and Jarrod Ong and Yulry Kim, Otumoetai College.
The Eastern Bay of Plenty recipients are Baden Mareroa, Opotiki College; Corbin Rieger, Tarawera High School; Jaden Probert, Trident High School; Manaakiao Hahipene, Whakatane High School; and Tom Vos, Trident High School.
The scholarship winners are determined by the individual colleges / high schools.Each year the Trust gifts scholarships to as many as 20 students about to embark on tertiary studies and graduating from coastal high schools and colleges between Katikati and Opotiki. Colleges with more than 1,000 students are eligible for two scholarships. Recipients must be about to embark on studies in the science, technology or emerging industries fields.
The BOP Education Trust also supports the InStep Programme run by Priority One, and its Eastern Bay of Plenty equivalent, the ToiEDA. In addition, the Trust also has a Future Leaders Programme.
From left to right: Back row: Jack Towers, Makaia Ormsby, Rivah Somerville, Jacob Earles. Middle row: BOP Education Trust trustee Tom Beswick, Shayla Kiwi, Sorraya Dodunski , Levi Nicholson, Emma Wilson, Finn Cleaver-Brown. Front row: Yulry Kim and Jarrod Ong.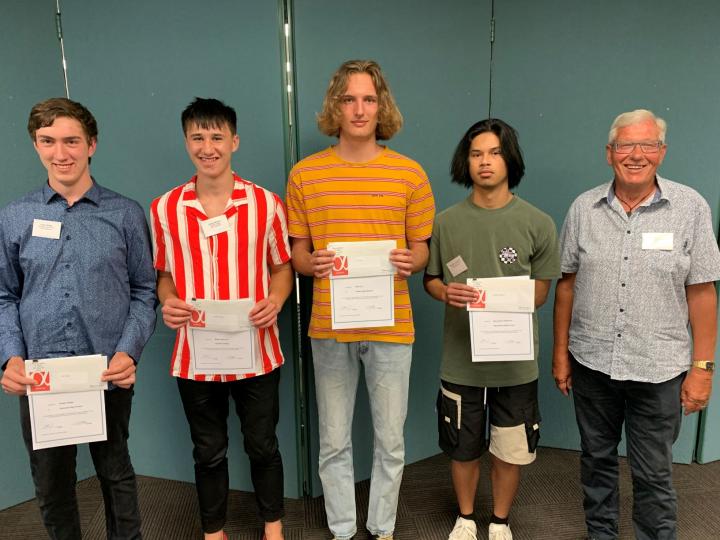 From left to right: Corbin Rieger, Baden Mareroa, Tom Vos, Manaakiao Hahipene
and trustee Peter Tootell.