Second enewsletter
Welcome to the second edition of our BOP Education Trust enewsletter
This newsletter - the first for this year - has been launched as a way to connect with you, our alumni, and to keep you up-to-date with the Trust's happenings.
We've made some inroads but there are still many alumni we are hoping to connect with.
To that end… We Want to Hear From You if:
You know of any former BOP Education Trust scholarship winners or Future Leaders Programme members who are not receiving our publication. Please share their email contact details with us so we can grow our database
If you are a former scholarship recipient who would like to be profiled. We would love to hear how the scholarship has made a difference. Each edition we profile either a scholarship recipient or Future Leaders' Programme graduate and share their story.
Please make contact here.
Eighteen benefit from latest scholarship round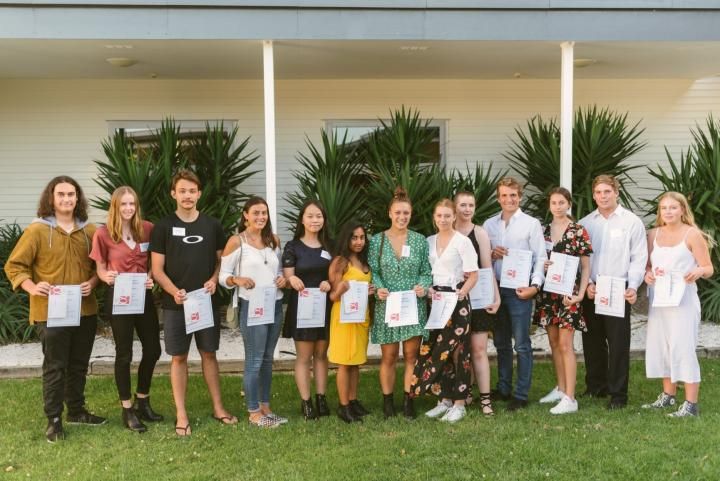 Western Bay of Plenty scholarship winners. From left, Seamus McCann, Emily Rutherford-Smith, George Robinson, Haven Banks, Seeun Park, Dewni Fernando, Pianiki Ormsby, Maia Burggraaf, Kerry Parkinson, Damian Torwick, Heidi Henshaw, Connor Garner and Kristin Brown.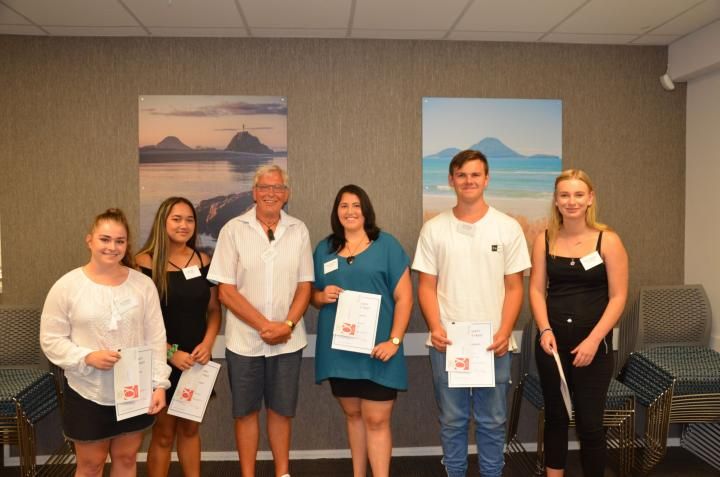 BOP Education Trust member Peter Tootell, with Eastern Bay of Plenty scholarship recipients. From left, Amy Pilkinton, Serene Ratu, Chelsea Aim-Linstead, Jamie Wennink and Romy van der Boom.
The Bay of Plenty Education Trust committed to gifting $108,000 from its coffers in its latest scholarship round, once again benefiting students beginning tertiary studies.
Thirteen Western Bay of Plenty and five Eastern Bay of Plenty students are the most recent recipients of the Trust's Science, Technology and Emerging Industries Scholarships. All students receive $6,000, which will be paid in instalments during their study years.
The latest WBOP recipients are: Heidi Henshaw and Pianika Ormsby, Tauranga Girls' College; Seeun Park, Bethlehem College; Connor Garner and Damien Torwick, Tauranga Boys' College; Haven Banks, Papamoa College; George Robinson and Dewni Fernando, Otumoetai College; Kristin Brown, Katikati College; Kerry Parkinson and Maia Burggraaf, Mt Maunganui College; Seamus McCann, Aquinas College; and Emily Rutherford-Jones, Te Puke High School.
Eastern BOP recipients are: Serene Ratu, Whakatane High School; Amy Pilkinton and Romy van der Boom, Trident College; Chelsea Aim-Linstead, Opotiki College and Jamie Wennink, Edgecumbe College.
Trust chairman Roger Loveridge says as of the end of last year, 290 scholars had gained scholarships with a total value of $1,372,250. Colleges with more than 1,000 students are eligible for two scholarships. The Trust recently increased the scholarship amount from $5,750.
The future's looking bright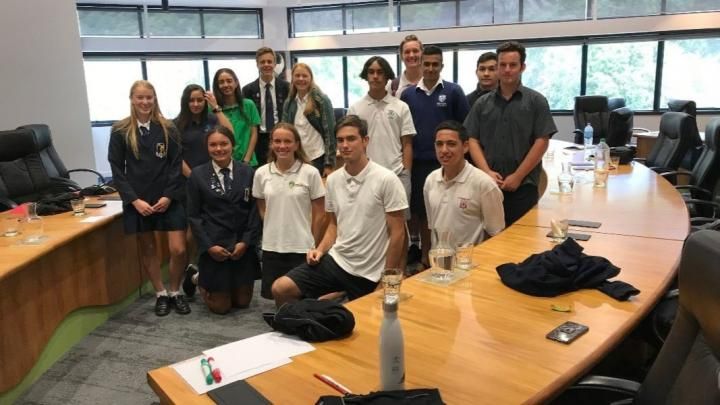 The 2019 Future Leaders Programme group, in Whakatane. Back row, from left:
Alexis, Willow, Moewaka, Logan, Jess, Jaylon, Kemp, Inder, Jarkaleb and Daniel
Front row, from left: Kayli, Molly, Brandon and Wiremu (Absent: Owen)
Moewaka Dunster feels honoured to be selected as part of the 2019 Future Leaders' Programme intake.
The Year 12 Opotiki College student - who plans to pursue legal studies when she leaves school - sees the selection as a chance to improve not only her own leadership skills.
"It will be a great opportunity for me to develop my leadership skills and potentially bring some skills back to share with my peers so we can all develop," she says.
Moewaka, and the others in her group, attended workshop number one in Whakatane last month, where the meaning of leadership was deconstructed.
"After that we made a plan as to how we could use those qualities and develop our actions within our school and within the leadership positions we already have," says Moewaka who is a student representative, a house prefect and the sales director of a Young Enterprise Scheme team.
The most recent Future Leaders Programme intake comprises Alexis Moor, Tauranga Girls' College; Willow Brady and Jarkaleb Samuels, Tarawera College; Logan Green, Tauranga Boys' College; Jessica Meade, Katikati College; Jaylon Paki, Otumoetai College; Kemp Taylor, Whakatane High School; Inder Bains, Bethlehem College; Daniel Hurley, Aquinas College; Kayli Tuiraviravi, Tauranga Girls' College; Molly Shivnan, Mt Maunganui College; Brandon Powell, Edgecumbe College; Wiremu Heyblom, Te Puke High School; and Owen Hollowood, Trident High School.
The purpose of the Future Leaders' Programme - developed specifically for the BOP Education Trust and run over Year 12 and 13 - remains to teach participants how to improve their leadership effectiveness, better utilise their influence potential when interacting and relating to others, and encourage them to take on leadership roles within their respective learning institutions and communities.
Are you familiar with our Facebook Group?
If not, join our Bay of Plenty Education Trust Scholarship Alumni group here.
We'd love you to join up. Yet another great way to keep up with the play.
Welcome to Tom
Tom Beswick is the newest addition to the BOP Education Trust, bringing with him sound financial knowledge.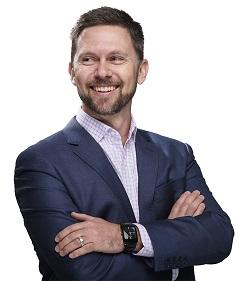 Tom is a partner with Ingham Mora Chartered Accountants and is happy to be on the Trust using his skills to assist in managing affairs to ensure the Trust can continue to support students in perpetuity.
He replaces Peter Wood and is the Trust's secretary.
Helping people buy and run good businesses is one of Tom's passions – along with that he supports clients with their tax compliance and accounting needs.
The University of Waikato was Tom's chosen place for tertiary study. There he acquired a Bachelor of Management Studies to accompany his chartered accountancy qualification. He studied in Hamilton for one year and then three from the Tauranga campus.
Post study, Tom started out with small chartered accounting firms in Tauranga. He then moved to KPMG's audit team. This job involved the opportunity to "jaunt around the globe" a little, with his stops including from Dublin, The Cayman Islands and Vancouver. Upon returning to New Zealand he worked in Auckland as financial controller for a large forestry company.
It was in 2016 that he got the bug to return home, whereby he joined Ingham Mora.
Three young kids (7,4,1) keep him on his toes. When not working, kids' birthday parties, as well as sport and swimming keep him busy.
"I get real enjoyment from seeing clients get better financial understanding. I enjoy demystifying the complicated, so people are more confident in how they run their business."
James is ever grateful for scholarship
Receiving the BOP Education Trust's scholarship had a "profound impact" on James Martin
Seven years on and this 2012 recipient and former Aquinas College student can still itemise exactly what a difference that financial assistance made.
It provided a cash inflow right at the beginning of each year when most needed and was particularly important given a variety of circumstances, he says.
"My family was not in a position to completely support me, mainly due to the cost of attending the halls of residence in Christchurch. This meant in the first year, we had the cash available to book my flights home for the holidays and for me to set up my room," James says.
At the end of his second year of study he went on an exchange to China for five weeks – this significantly impacted on his ability to work and save over summer.
"This meant that the scholarship was especially important in the beginning of my third year, which was also my first year of flatting - which has a lot of initial expenses associated with it."
Then, in his final year – while completing his Masters, he was no longer eligible, as a post-grad, for the student allowance.
The scholarship allowed me to minimise the amount of loan living costs I had to use throughout the year," James tells.
James pursued two degrees at the University of Canterbury before starting his working life with Price Waterhouse Cooper. Now Wellington-based, his focus is on the emerging areas of data analytics, digital governance and data strategy space across the company's national assurance team.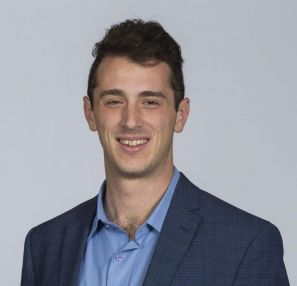 He describes his working life since university as "pretty awesome and crazy".
"My working life consists of many late nights, a diverse range of projects for public and private companies, exposure to some of New Zealand's most knowledgeable and successful leaders, and a lot of travel around the country and in the Asia Pacific area."
The purpose of the Trust.
The Bay of Plenty Education Trust, established in 1985, remains a charitable organisation.
It has stayed true to its intention of funding and developing educational opportunities in the coastal Bay of Plenty region.
Its objective remains unchanged…
"the advancement of education by the provision of grants, loans, scholarships, financial assistance or other means as the Board sees fit"
This is achieved in a multi-faceted way, through:
the provision of Scholarships for tertiary study.
the development of ideas and facilities for the enhancement of education in the region.
the funding of community trade training schemes (presently through the 'Instep' and LinkUp
the development of future leaders in the community (Future Leaders' Programme).