May 2022 Newsletter
Jessica's watching our waters
Being an engineer involved in work that directly benefits the community, provides Jessica Aldridge with lots of satisfaction.
In every edition of this publication we profile a former BOP Education Trust scholarship winner, and this time it's Jessica, who is a former Whakatan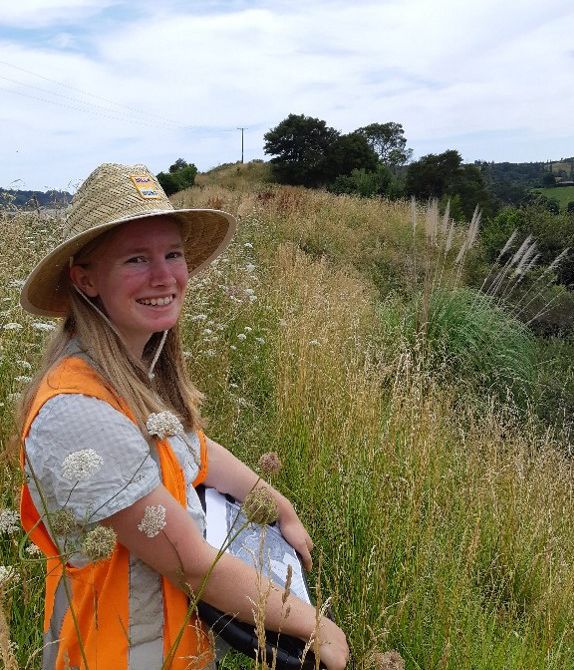 e High School student.

Armed with her scholarship money, Jessica attended Canterbury University from 2016 to 2019. She graduated with a Bachelor in Natural Resources Engineering Degree and a Diploma in Global Humanitarian Engineering. After graduating, Jessica joined Pattle Delamore Partners – initially in Tauranga and then Christchurch – and she's remained with this company working as an environmental engineer (She loves both her work and place of employment). Since starting with PDP, in the water infrastructure team, she has been involved in a wide range of engineering projects throughout New Zealand. Her work is focused on flooding and stormwater projects, as well as on drinking water and wastewater projects.
Jessica has also applied her knowledge beyond New Zealand. During her studies she took part in a two-week design summit in Cambodia, run by Engineers Without Borders, Australia. The two-week professional experience included learning about humanitarian engineering, which was put into practise when the students interviewed locals (with the help of a translator) and then developed design projects that were presented back to the local community.
"It was a great opportunity to learn about other cultures, how engineering can help communities through human-centred design and develop great professional skills and connections with other like-minded engineers," says Jessica who thrives on being involved in a profession that can create positive change."
NB: If, like Jessica, you're a BOPET scholarship recipient with a story to tell, we'd love to share it. CONTACT US.
Trust extends its outreach
The BOP Education Trust has extended its philanthropic outreach to include an organisation focused on providing life skills for boys. For many years the Trust has offered education scholarships, fielded a Future Leaders' Programme, and funded community trade training schemes. That's now been extended to incorporate ICONZ, which targets a young cohort of male students. The organisation has received $24,000, to be used over a three-year period in selected BOP schools where hands-on (woodwork and similar) ICONZ Edge Workshops will be held. ICONZ recognises that not all students have the ability to excel academically, and has children participating in programmes that build resilience, self-worth, self-belief and a better attitude toward school, life, learning and school attendance.
ICONZ Programme Director and Development Manager Stu Thompson says the Trust's funding will enable the Edge Workshop trailer and staff to work with students on a weekly basis at Tauranga's Merivale School for three years, and one day per term at Apanui School in Whakatane.
"The workshop programme teaches woodworking skills, and the students build small wood projects. Along the way they gain a great sense of achievement and success and learn life skills like how to form a great attitude, how to collaborate well, and some additional math measurement skills to name a few.
"Needless to say, we are delighted to have been the recipients of this grant, as are staff from the schools involved," Stu says.
Education Trust awards scholarships
Removing a little financial stress for students during Covid times feels especially worthwhile, says Bay of Plenty Education Trust chairman Nick Earl.
"Investing in the tertiary education of the Bay's young people has long been a focus of the Trust. It is always a pleasure to award our Science, Technology and Emerging Industries Scholarships, but perhaps especially so now when students face added pressure due to Covid-19 related interruptions to normal study patterns," Nick says.
This year, 23 Bay of Plenty students were awarded scholarships, each receiving $6,000 in instalments during their studies.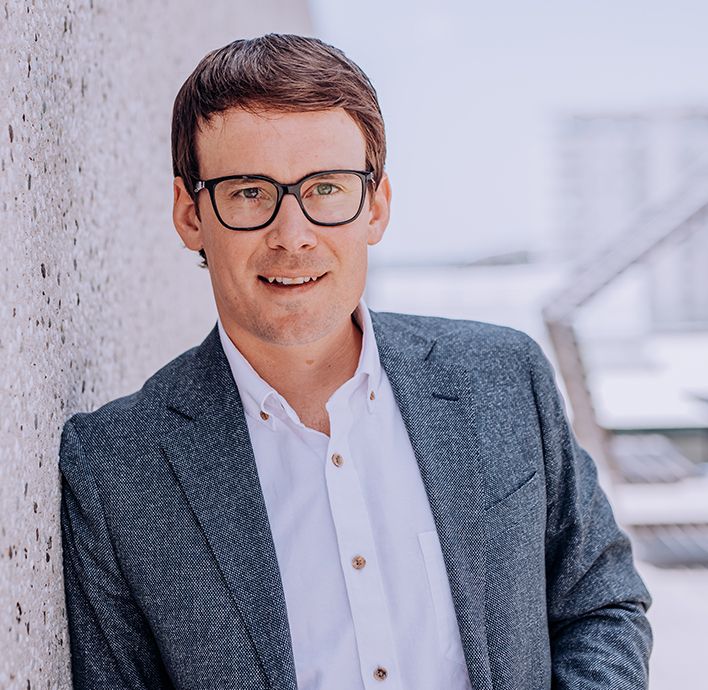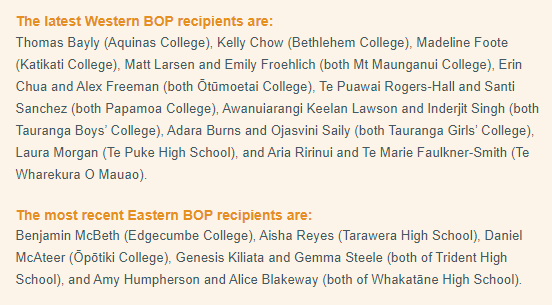 The number of recipients to receive the scholarship over the years now stands at 345. The scholarship value has increased over time, with the total amount gifted equating to $1,835,750.
Scholarship prizegiving ceremonies were not held this year due to Covid Red Light restrictions.
Leah leads the way
The value of the BOP Education Trust's Future Leaders' programme is continually validated, and Leah Owen is but one example of that.
The former Tauranga Girls' College student was part of the programme over 2017, 2018. She says the programme's first year equipped her with vital skills she utilised when selected to be head girl.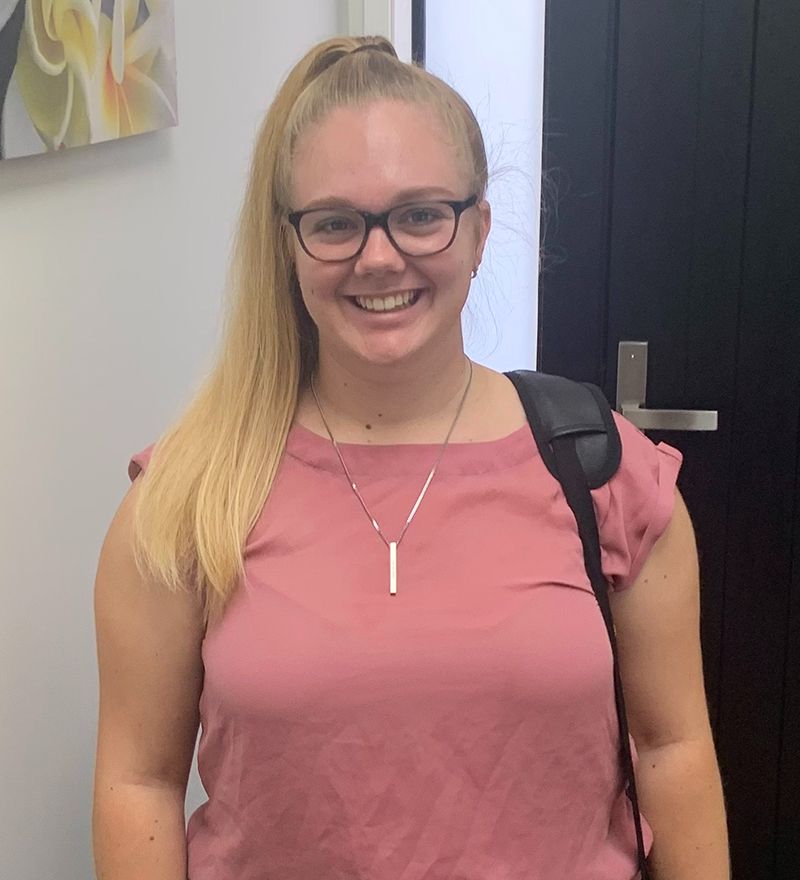 Leadership roles continued during her tertiary education years. Leah studied at The University of Waikato's Tauranga campus, pursuing a Bachelor of Social Science, majoring in Psychology. During that time, she was successful in becoming the Waikato Students' Union Tauranga Director (one of 11 students on the student union board.)
"This was a major leadership role. As the Tauranga Director I wanted to make sure that Tauranga students had a voice and were heard, and I would assist in any concerns, queries or feedback students may have about the university. I would discuss student issues at the Student Union Board meetings with the aim of coming up with a solution, or meet with the Senior Deputy Vice-Chancellor, or the director of the Tauranga Campus Operations," Leah says.
She says she is very grateful for her time spent on Phil Laurence's Future Leaders' Programme and especially for learnings associated with the "five practices of exemplary leadership". These have stood her in good stead.
"The one that has stuck with me all these years is the practice of 'challenging the process'. I utilised this practice many times whilst serving as the Tauranga campus director. The campus was brand new, so there was still trial and error and the students had a lot they wanted to say about things that were happening. As their director it was my job to make sure that our voices were heard. This involved challenging the process in order to create a climate where the students felt empowered and where they could have a say on the changes that would affect them and their learning."
During her time on the Future Leadership Programme, Leah was also taught about the importance of situational leadership – being able to adapt your leadership style in order to meet the needs of the people around you.
"This was also something that I used in my director role, and that I now carry with me during everyday life because it is so relevant."
It also pertains to being able to adapt to the needs of those who you are trying to empower as a leader, Leah adds. ​​​​​​​
Since her university days, Leah has worked with the sexual violence prevention sector – specifically as a Tautoko Mai Mates and Dates facilitator. The non-profit sexual harm support organisation "supports all people and communities affected by sexual harm towards well-being through healing, education and prevention".
As a Mates and Dates facilitator, Leah visits Bay of Plenty high schools/colleges to help Year 9-13 students learn about healthy relationships, negotiation, consent, identity, gender and sexuality. The course covers identifying when things go wrong and how young people can keep safe together – in the hope of preventing sexual and dating violence in Aotearoa.
"The Future Leaders' programme has also helped me in this role, as I remember learning about how being a leader also involves understanding people, their behaviour, and using relationship awareness to understand how to foster communication with different people in different situations, rather than just dictating what they need to do. As a facilitator this could not be more important.

I will forever be grateful to Phil and extremely grateful to the BOP Education Trust for providing opportunities for high school students, just like myself in 2017, to attend programmes such as this one without facing the financial burden programmes like these might cause. The concepts learnt are invaluable, and I know they have helped shaped me into the young woman I am today."